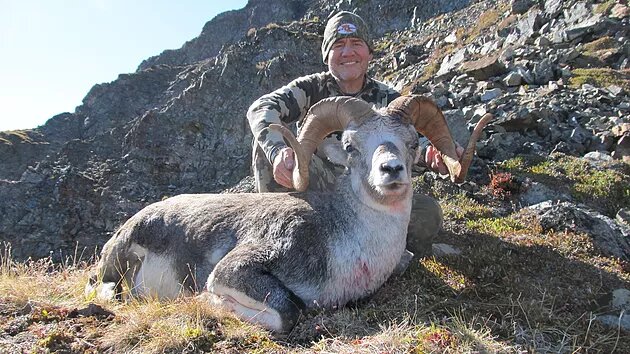 Don Parks BC Stone Sheep 2014
Hello All,
Austin & I have been home for a couple weeks from our BC hunt. Sorry for the late reply on how things went; I've been helping a long-time family friend who turned 72 on his last archery elk hunt here in AZ.
We booked our hunt thru 'Sugar Valley Outfitters' owned and operated by Scott & Jodi Mackenzie at the SCI show in 2013. Austin had hosted me on a Cougar hunt in 2012 with Scott thru Mark Buehrer at 'Bowhunting Safari Consultants'. We had such a great time, and both shot huge cats' we felt Scott was the guy to do a backpack mountain hunt with. And a mountain hunt it was!
My issue was in getting ready. At 57 years of age with one guide being 42, the other 25, and my son at the ripe old age of 32, my only concern was being able to keep up! I logged over 160 miles on a mountain trail behind my house that was just over 6 miles carrying 40 lbs. in my pack. Worked out with a Nazi trainer once a week ( Sorry Rhonda ) for an hour, and lifting weights twice a week. This was done over a period of around 14 months. The one thing I wasn't ready for was the altitude, but in due time it improved. I just kept saying to myself daily … "Just one more step". Packs ranged in weight from 35 ~ 65 lbs. for me. The other guys carried more by a long shot on the pack out with the ram and meat.
Floyd Green with 'The Outdoorsman' was a real benefit for us. Over dinner he filled me in on the struggles with physical issues and recommended we use a couple supplements he markets we could mix in our water called 'Wilderness Athlete'. Ironically, Scott had used the product on previous hunts and was a fan. I will tell you, it made a huge difference in keeping me charged and able to stay with the program day to day. An amazing lightweight packable product that made all the difference for us. Also, Floyd sells a wonderful lightweight pack that has sleeves for your bow or rifle that held up perfectly.
I'm a traditional bowhunter, and didn't own a mountain rifle. My friend Mike Korstange of 'Magnum Mikes' built us a lightweight mountain rifle in a 300WSM topped with a 3 by 15 Swarovski scope with a turret my good friend Rick Corven set me up with purchased from The Outdoorsman. Jesse Smith at 'Best Shot' worked up a load for us and shot the rifle to finalize the perfect shooting cartridge. I carried my longbow and Scott carried our rifle.
We hunted hard for 5 straight days looking for rams they had previously spotted to no avail. We saw sheep each day, but they lacked the legal age to harvest. The larger rams had moved so we did as well to another mountain range. Days lasted from 10 ~ 14 hours. It didn't get dark until 10:00 PM so days were long and gave us a lot of glassing time. The last 4 days we hunted out of cabins. Austin had fallen on frozen ice and buggered his knee so Scott & I packed to another range of mountains and were able to stay in a wonderful 2 man cabin. Upon arrival I was done. For the first time on the hunt at 2:00 PM my legs were shot; it had been a tough, heavy pack in thru alder thickets and marsh basically without a trail to follow. Scott went out to glass and it started to rain. He came back and said he'd spotted a very nice ram that was in a tough place, thought he had the age and definitely enough curl and length in his horns, but had a broken left front leg! He wasn't using it at all, and felt he would end up being eaten by wolves or a bear when the snows hit. He would have to move down the mountain. Eager to have a look at him the next day, I was pretty sure if he was as Scott told me I would try to kill him. Well, the next day the clouds were socked in to tree level and we ended up not hunting at all. The following day it was a bright sunny day, and heading out early wearing our rain gear, the ram was not in his normal spot but had moved down and we had walked past him. I ranged him at 970 yards. We were trying to figure out a way to stalk closer when suddenly he got up and started moving back to his original bed. As he was moving away from us, we hustled closer and belly crawled the last 40 yards to a slight rise. I had decided to shoot him and after he bedded I ranged him at 467 yards. Scott was very concerned if we didn't anchor him and he kicked himself off the mountain he would tumble several hundred yards down busting his horns and body to pieces. It took him 40 minutes before he stood up. I aimed with a rock solid rest and squeezed off a shot at his front shoulders. He spun looking the opposite way and I shot again at his shoulders and Scott called the shot right. Now he was moving away and stopped quartering, I shot, and again he said it was right. Now he had moved up a bit higher to another bed and turning broadside I held in the middle of his body and broke his neck. Down he went for good not moving. My prayers were answered …
When we got to him my first shot had hit him in the back of the lungs. We didn't realize how windy it was where he was standing and how much bullet drift we had.
He's not a monster but very nice. His colour and facial markings are excellent and he has a fine winter coat. Outside of dangerous game in Africa, he is the first animal I've killed with a rifle in decades. What a hunt! Scott & Jodi run a first rate outfit and his guides are great as well. Our young guide 'Jordan' was a delight to hunt with. Austin & I will be going back in the next couple years to bowhunt Mountain Goats. I guess I better stay on the program …
I never could have done this hunt without the help from my friends!
Warm Regards,
Don Parks.